132 shelburne road
by Alan Reynolds, Period VI, English XII April 28, 1957
In 1943 a family drew up before a white clapboard house. It was my family, and I came to feel that it was my house.
The family that rented the house wasn't very large — just three and eight-ninths people. It was a happy family though, and its members, the first three, laughed and talked as they drove up the shady drive to the veranda.
They went into a medium-sized house. It was built mostly as a summer home, with a roofed porch running in front of the living and dining rooms. The dining room's French doors and the living room's Dutch door opened from the porch to show ten-foot-high ceilings, cream-colored plaster above a white dado, and two arches and a flint stone fireplace connecting the rooms. The two bedrooms that opened onto a rhododendron fringed terrace had the same high ceilings, and windows bigger than the cramped closets. There was a screened sleeping porch for summer guests, and, seemingly added as an afterthought, a breakfast room, a bath room, and a back porch.
The family liked the airy house surrounded by white-oak trees, and they moved in. Two weeks later a fourth member, my brother, arrived. He and I came to love the house, and it came to be our home.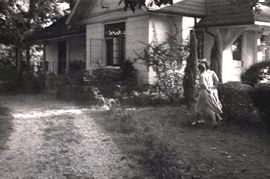 I remember that the house was always full of people. My twenty-seven first cousins were guests; so were their parents, scores of other relations, and countless friends, acquaintances, and animals. Yes, animals were usually all over the house. During the fourteen years, the animal part of our family included six dogs, twelve puppies, five guinea pigs, two cats, one parakeet, three hamsters, several goldfish, turtles, and lizards, fifty-seven guppies, and one home-hatched snake.
My father was killed in World War II, but with a great mother, a yard, and those pets, the house was a good place for two little boys to live and grow. We had a lady who helped us one day a week for the first eight years, and another came every day for the last six years. Both were good friends and real helps to the family.
The house had a wonderful yard that covered seven and one-half acres. It had a shady front yard, a northern terrace with trees and a bench, a cool southern yard with a little summer house and a fake well, and sunny first and second back yards separated by a hedge. There was also an orchard, two small fields, and a woods. I used to run through the woods to the barn to see the cows, calves, pigs, and chickens. The yard was much more important to us (in making our place a home) than the house was.
As the years passed two boys aged the house swiftly. The house had chipped paint, scratched floors, arrow-pierced windows, et cetera. These were repaired, and a stone terrace and a sun deck were added. The white clapboards were covered with asbestos shingles.
The family grew up in the house, and each of its members gained much from the house. They had a real home, and they will always have their memories of it.
In 1957 a family left a home. It was a small family — just three members — but it was happy. The three laughed and talked as they left, but each knew he would miss the house. It was just a medium-sized house, but as it sat on its hill it seemed to bid them good-bye.
The title of this high school senior-year English-class paper is the address of Aunt Julia and Uncle Frank's house in Asheville, North Carolina that they rented to Lisa to have a home with land while her sons Alan and Tom were growing up.